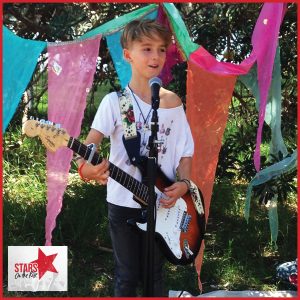 Sam Jones – June 2016 STARs on the Rise Recipient
Sam is currently the youngest artist we have here at Fairplay at the tender age of 8.
Sam started busking at  5 and has been playing professionally since the age of 7.
A regular busker and performer at Central Coast events, Sam also plays in Sydney, Melbourne and over in the UK.
His main influences are Ed Sheeran, Jack Johnson, Oasis & Train.
Sam has been so generously received by the Central Coast community and he feels a strong responsibility to give back – he is a big supporter of local charities and also The Sea Shepherd.
His guitar playing is beyond his years and has now progressed onto learning barre chords and finger picking.