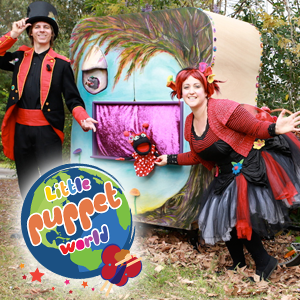 Live music puppet shows to entertain, engage and inspire!
Little Puppet World performs original live music puppet shows all over Australia, as well as creating puppet theatres and puppets for film, television and stage performances. Join us with our cast of lovable characters on a fun filled musical adventure as we inspire the imaginations of little dreamers to make the puppet world come to life. Our performers and puppets tell magical stories featuring live original music set in lovingly handcrafted puppet theatres.
Live music puppet show
20, 30 or 45 minutes
The guitar is tuned…
The crowd is ready…
But we can't start the show yet…
Annie has turned herself into a ladybug puppet!
Join Roses the fairy, a mouse called Pickle Mouskawitz, Little Seed and cheeky crow to help make puppet magic, so Annie can turn back into a human, uncover the mystery of what's inside the suitcase and finish the show! Little Puppet World presents a fun filled musical adventure with a loveable cast of characters featuring live original songs, pantomime, ventriloquism and laughs for the whole family.
Roving Entertainment
We offer a large selection of roving entertainment suitable for any occasion. Our ventriloquist and her talking emu puppet (who's a bit of a birdbrain) will have your crowd in stitches with her antics, while the interactive puppets charm and entertain. There's also stilt walkers, musicians, flag twirling, fire twirling and breathing and our LED spinning light show. Whatever your event we have performers ready to entertain your crowd.
Kids 'Mini Festival' tent
Fully manned colourful Little Puppet World marquee (3x6m) set as a theatre for any of our shows or event, baskets out front for free play, a chill out comfy cushion space with face painting inside.
Activities include Hula hoops, large marionette puppets, fabric poi, torflex, rhythm, giant games and so much more!
Face Painting
We offer face painting for any event using only the best quality face paints and materials to create faces that all dreamers will lov
Kids Parties
Leave the entertaining to us and enjoy your child's birthday party. 2 hour hosted parties, with face painting, puppets, music and games.
This package includes
2 hours
up to 15 Children
Face painting
Games
Story show and meet and greet with Emily the Emu.
Workshops
Puppet Making….
Let Keren from Little Puppet World introduce you to puppets….all sorts of puppets.
Then design and create your own string, rod, or hand puppet out of sparkly provided materials and pre loved objects (some may call this stuff rubbish, not us!). A  fun and inspiring workshop for young and wise
Fire & LED light twirling
For parties,  corporate events and workshops. Structured for all abilities with full public liability, using only fire water or LED's and soft poi for those not ready for fire. All the safety gear and music provided.
Gypsy Wagon Puppet Theatre
Want something extra special? Our shows can be performed in our Gypsy Wagon Puppet Theatre. On its own or it can be towed around by a bicycle adding the extra wonder of a parade to your festival or special event.