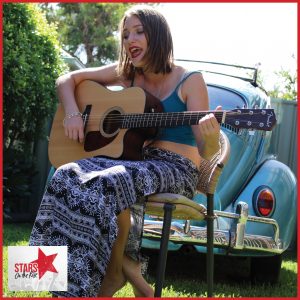 Abigail – May 2016 STARs on the Rise Recipient
Abigail is a local singer-songwriter who has been singing ever since she can remember! Playing both guitar and ukulele, she was inspired to take up the guitar at age 11 after her sister come home from high school with a guitar. Predominantly a self-taught musician, Abigail has only recently taken up guitar lessons to further her skills.
Abigail has already performed at a number of venues on the Central Coast, including Lizottes and the Rhythm Hut, having been invited to sing at the Best of Open Mic night at the Rhythm Hut in 2015. She has also been in-demand for busking gigs at various markets on the Coast.
Most recently Abigail has been focusing on her songwriting and has started to release some of her original songs online via Facebook and YouTube.
For someone who has always wanted to be a singer Abigail is well on her way!